When one thinks of tailgating it's probably of diehard NFL fans arriving at the stadium parking lot early in the morning to grill and drink to excess for the game later that afternoon. Buffalo certainly has a near mythical tailgating reputation.
So as I was heading down from the Ivor Wynne pressbox at about 1:30 Monday afternoon, pondering what to do for the next 2.5 hours until kickoff, I looked over at Scott Park and realized there was a fairly decent sized tailgate scene happening. Usually I spend the pre-game warmups looking for candid shots of players, but at this point in the season I already have a good selection of such images and decided to head over to the tailgate instead:

A young Box J Boy with tiger headgear

Box J Boys spread

Grillin' on the trunk

And not camera shy…

Gifto – yeah, a name from back when I started photographing Ticats games.

These guys were standing there drinking and actually waiting for CFL commissioner Mark Cohon to show up. One of them had Twittered with Cohon, who said he 'might' stop by. I later saw the guy in the Giftopoulos jersey and he said Cohon never did show… bummer.

The Toronto ArgoNotes band entertains tailgaters. Since it was my first time at a Ticats tailgate party, I wasn't sure what the response to them would be, but it was generally well spirited, though someone did throw a string of firecrackers in their direction at one point.

I circled around a few times and always ended up back at the Box J Boys area. Here a couple mingle with an Argos fan.

And a close-up of his interesting beer storage solution… keeps the boys a bit cold I'd guess, though I wonder for how long.

Though at least he's willing to admit the Argos suck.

Too impatient to wait in line for a port-a-potty.
I wouldn't say the tailgating was anything crazy. It was a great atmosphere – people hanging out and having a good time. Next time I'll have to go on an empty stomach to take advantage of all the generous offers of food while I made my photo rounds.

Heading back to Ivor Wynne…

Paul Weiler – served as the third Pigskin Pete for 31 years until 2006. Nice to see him back at a game! Here's a write up about him on ESPN.

Just interesting to see the cars parked like that against the house with the no parking sign. The only other football stadiums that I've been to where this happens is Lambeau Field in Green Bay and to some extent in Buffalo. I guess it's one of the 'charms' of an inner-city stadium. Also one of the reasons I arrive three hours before kickoff to find street parking.

Face painting for young and old under the southeast grandstand.

The pink hair caught my eye, but a closer look is very interesting. The hair, the stretched ear piercing, the AK-47 necklace and the tattoo inscription "there's nothing worse than being ordinary in life." Or should that be "there's nothing worse in life than being ordinary."

CFL quarterback legend and Hamilton native Russ Jackson and CFL commissioner Mark Cohon share a laugh before kickoff.
P.S. If you see yourself in these photos, or think I got some of you that aren't posted here, let me know!
P.P.S. Interested in seeing more fan photos, like this one?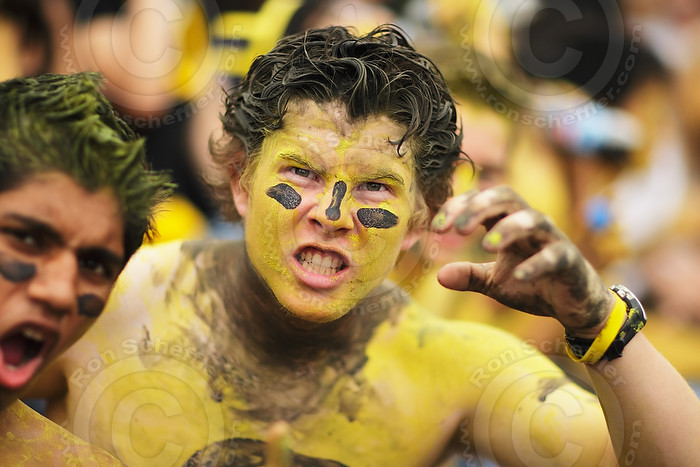 Check out the Ivor Wynne Stadium and Fans gallery in my CFL photo archive.